Fashion Star Fillies :: Royal Beauties
"In the world of ultra glamorous fashion, one name is on everyones lips: Fashion Star Fillies!"
Fashion Star Fillies were produced by Kenner in the mid 1980's. They were a series of shimmery, multi-coloured horses which could have their long manes and tails styled and bodies painted. There were several sets of fashion wear, hair & body adornments and one playset.
[eBay links are sponsored]
Images on this page thanks to The Filly Catwalk or found on eBay!
Royal Beauties
"The Royal Beauties are rich and beautiful with their regal body prints and stylish outfits. Cleo is the impressive and stunning Egyptian Empress, .Tonya the outrageous African Queen, and Anya the gorgeous Siberian Princess."
There were three ponies in the Royal Beauties series.
Anya
Accessories:
Mesh Robe with White Fur Trim
Iridescent Lavender Tail Bow
Lavender Icicle Comb
Cleo
Accessories:
Gold Usekh Tail Skirt
Gold and Pink Uraeus Headband
4 Gold Anklets
Blue Gem Comb
Tonya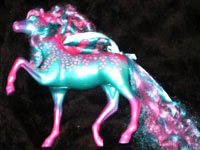 Accessories:
Purple Fur Cape
Purple, Pink, and Gold Hair Wrap
Purple and Gold Tail Wrap
Teal Star Comb
For Sale