Rose Petal Place :: Playsets
"Meet the Rose Petal Place dolls, that look and smell like beautiful flowers!"
Rose Petal Place was produced by Kenner in 1984. They were a group of scented, flower themed dolls, with petal dresses and floral accessories. There were also a few playsets and other related accessories. The doll molds were used again for Kenner's Bubble Belles in 1990.
[eBay links are sponsored]
Image on this page thanks to Totally Jem and Nht Pirate!
Playsets
There were two playsets produced, and one set due for release the following year which never made it into the shops.
Rose-Petal Roadster
"Kids can take Rose Petal Place Dolls for a ride in the Rose Petal place Roadster. It was once just an old, rusty toy car, but a teardrop of love turned it into the snazziest vehicle in all of Rose Petal place. The car resembles a slower and has a rosebud front grill, plus a rose-coloured windshield and gold headlights and horn. There's even a rumble seat which holds one of the Rose Petal Dolls as a passenger. When kids press the horn, they hear Rose Petal's song from an electronic music box. And like all other magical things in Rose Petal Place, the vehicle has its own teardrop jewel as a hood ornament."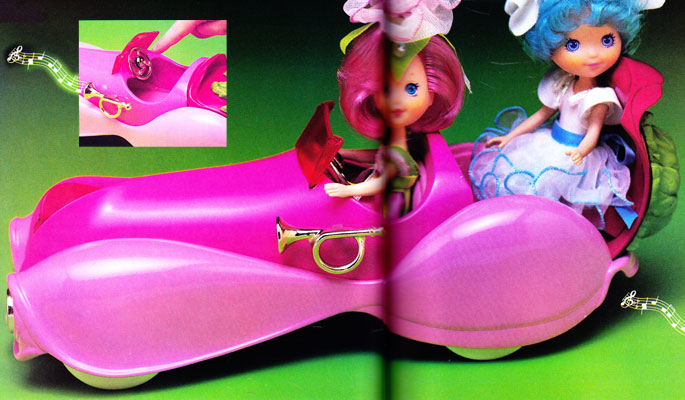 Rose-Petal Cottage
"Kids will love to play at the Rose Petal Cottage. It was once an old sprinkling can, but a teardrop of love gave it all the comforts of home. The house has a transparent rose-shaped front door which opens and leads inside. The door has a teardrop jewel on it, and there's a mailbox and a working doorbell out front. Inside the house is a vanity with a brush and mirror inside the drawer and a comfy chaise lounge. A trellis gate in the back of the house opens to expose the interior. Attached to the gate are steps that lead to the roof deck and balcony. That's where Rose Petal practices her singing. Her music stand and music sheets are against the rail. And there's a skylight for a view of the inside of the house."
Slumber Slipper [Unproduced]
"Even Rose Petal needs her beauty sleep and where better to get it than in her very own Slumber Slipper. Once upon a time it was an evening shoe but the loving girl's tears turned it into a beautiful bed. To this day it carried its very own crystal teardrop, plus an elegant blanket and sheer canopy you can raise and lower. It's a dream on a bed."
For Sale