Little Beauties :: Wind-up Ponies
"High Fashion Horses With Beautiful Hair!"
Little Beauties were produced by Multi Toys Corp in 1987-90. They were a series of small plastic ponies with moulded clothes and brushable manes and tails. They were very similar to Petite My Little Ponies, and often get mistaken for them or written off as "fakies".
Images on this page thanks to thanks to Jennifer!
Wind-Up Ponies
I don't know what correct name for this set is, but Wind-Up Ponies will do for now! I so far know of two.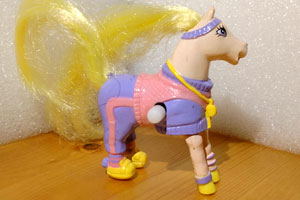 For Sale