Starcastle :: Individual Playsets
"Welcome to the Starcastle kingdom, where all your dreams come true! Unlock the magic and become the princess you always wanted to be!"
Starcastle was produced by Trendmasters from 1995 and were a series of plastic castles which opened up via a key to reveal the inner living and playing space, and came with many little accessories each.
In 2001 they introduced Starcastles with Stardancer Dolls, which were better known as Sky Dancers.
After Trendmasters ceased trading in 2002 (brought up by Jakks Pacific) at least three more castles were made for Disney using the old moulds with a fairytale princess theme. Just to make things even more confusing, Trendmasters produced several Starcastles in a variety of colours too!
Images on this page thanks to various eBay sellers!
Individual Playsets
Some playsets were not released as part of any collections or seem to be only one playset in the collection.
Magical Tea Party
Ice Ballerina Castle
Wedding Cake Castle
Magical Tea Party
"Castle is a working teapot that holds and pours water. Comes with 16 special play features. Castle playset contains:
One Princess and Her Friend
One Frog Prince
One Squirrel
Three Fairies
Two Chairs
One Table
Two Secret Charms
One Magical Key
One Ribbon Necklace"
The Magical Tea Party playset was produced in two colour variations. The mould was also used to create the "Jewelled Tea Party" playset too.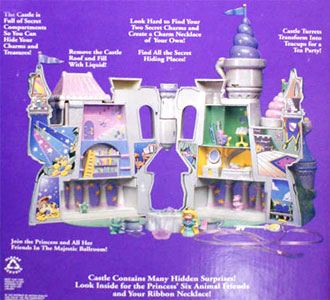 Ice Ballerina Castle
"Beautiful music plays as figures skate along a 3-level ice rink. They slide down to the next level all by themselves and keep on skating! A fold-out theater playset inside has a light-up spotlight, secret compartments and ice pop molds to make your own frozen treats! Playset includes spotlights, stage curtain, fold-down staircase, hidden key, two penguins, walrus, polar bear and seal. Also comes with frozen treat maker with three moulds. 14" high."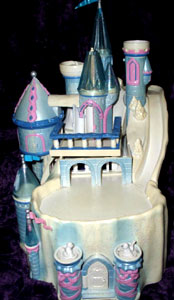 Wedding Cake Castle - Where Dreams Come True Collection
"You're invited to a magical wedding day! Towers reveal hidden wedding bands, plates, forks, spoons, cake slices and toasting glasses! A magical playset inside takes you from the chapel to a garden reception area with 11 wedding party friends and real wedding bell sounds!"
The mould was used again for a Stardancers' castle (name unconfirmed), in a different colour. So far I've only found one playset for this collection.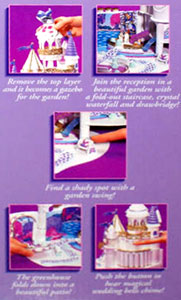 For Sale