Starcastle :: Light Up Collection
"Welcome to the Starcastle kingdom, where all your dreams come true! Unlock the magic and become the princess you always wanted to be!"
Starcastle was produced by Trendmasters from 1995 and were a series of plastic castles which opened up via a key to reveal the inner living and playing space, and came with many little accessories each.
In 2001 they introduced Starcastles with Stardancer Dolls, which were better known as Sky Dancers.
After Trendmasters ceased trading in 2002 (brought up by Jakks Pacific) at least three more castles were made for Disney using the old moulds with a fairytale princess theme. Just to make things even more confusing, Trendmasters produced several Starcastles in a variety of colours too!
[eBay links are sponsored]
Images on this page thanks to Brook and various eBay sellers including theshyowlpacacollectibles!
Light Up Collection
There were three playsets in the Light Up Collection.
Gemstone Castle
Neptune Castle
Seashell Castle
Gemstone Castle
"Magically lights up! Create your own gemstone jewellery!"
Neptune Castle
"Neptune Castle turns into a real aquarium and playset with light-up dance floor. Includes two mermaids, clam with pearl-look ring, clown fish, starfish, seahorse coach and octopus. Special keys to open. 11" high."
This starcastle's mould was used again for the "Mermaid Treasures Starcastle with Stardancer Doll" playset, in a different colour (blue base). I've found two colour variations so far.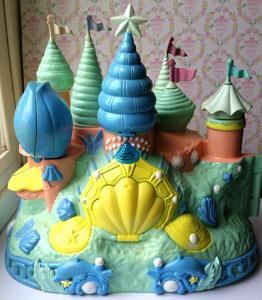 Seashell Castle
The Seashell playset had an underwater seaside theme.
For Sale