Starcastle :: Tropical Collection
"Welcome to the Starcastle kingdom, where all your dreams come true! Unlock the magic and become the princess you always wanted to be!"
Starcastle was produced by Trendmasters from 1995 and were a series of plastic castles which opened up via a key to reveal the inner living and playing space, and came with many little accessories each.
In 2001 they introduced Starcastles with Stardancer Dolls, which were better known as Sky Dancers.
After Trendmasters ceased trading in 2002 (brought up by Jakks Pacific) at least three more castles were made for Disney using the old moulds with a fairytale princess theme. Just to make things even more confusing, Trendmasters produced several Starcastles in a variety of colours too!
Images on this page thanks to Kelsey and eBay seller benjislot!
Tropical Collection
I've found two playsets in this collection so far.
Bubble Volcano Castle
Island Lagoon Castle
Bubble Volcano Castle
"Discover a bubbly paradise in this tropical castle!"
This starcastle's mould was used again for the "Caribbean Dreaming Starcastle with Stardancer Doll" playset,
Island Lagoon Castle
"Discover a chalk art paradise in this beautiful lagoon!"
The tower transformed into a bridge to link up with Bubble Volcano Castle. This playset's mould was used again for the currently unknown-named Stardancer playset.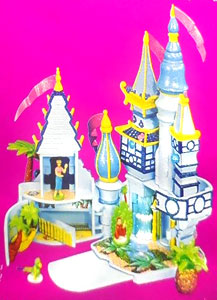 For Sale