Starcastle :: Sunshine Collection
"Welcome to the Starcastle kingdom, where all your dreams come true! Unlock the magic and become the princess you always wanted to be!"
Starcastle was produced by Trendmasters from 1995 and were a series of plastic castles which opened up via a key to reveal the inner living and playing space, and came with many little accessories each.
In 2001 they introduced Starcastles with Stardancer Dolls, which were better known as Sky Dancers.
After Trendmasters ceased trading in 2002 (brought up by Jakks Pacific) at least three more castles were made for Disney using the old moulds with a fairytale princess theme. Just to make things even more confusing, Trendmasters produced several Starcastles in a variety of colours too!
[eBay links are sponsored]
Images on this page thanks to Annee and various eBay sellers!
Sunshine Collection
There were three Sunshine Starcastles pictured on the back of packaging as part of the Sunshine Collection, but there was also another castle labeled part of this group too. The Sunshine Collection also had three coaches and three lockets.
Beach Castle (left)
Garden Castle (middle)
Bubble Castle (right)
Neptune Bubble Castle (not included in image)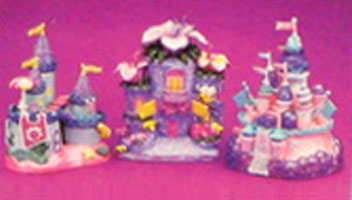 Beach Castle
"Create sunshine adventures in a castle that magically reveals tools for playing in the sand! There's a real water playset inside. When you make the water bubble, the princess floats along the stream!"
Bubble Castle
"Discover bubble wands hidden inside the castle towers. You can make the centre tower blow magical bubbles into the air! Plus, a bubble bath playset inside!"
This starcastles mould was used for one of the Stardancer castles (name unconfirmed), in a different colour. The playset below is coloured quite differently from the publicity image above, maybe it's a variation?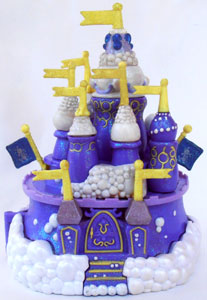 Garden Castle
"It's magic! Push the centre tower to release flying butterflies! The playset inside is filled with secret compartments, special friends and a fold-out secret garden!"
This starcastles mould was used again for the "Gardening Fun Starcastle with Stardancer Doll" playset, in a different colour.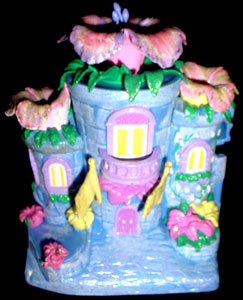 Neptune Bubble Castle
"Join the princess and her friends in her beautiful Neptune Bubble Starcastle! Find hidden bubble wands, containers and more!"
I've also found another Sunshine Collection Starcastle not featured on the packaging image above, so must have been released at a different time.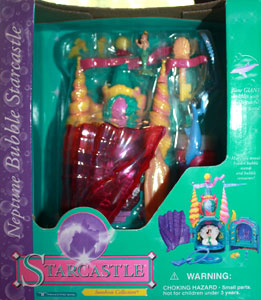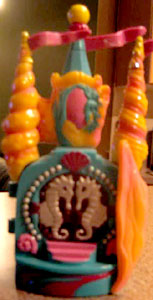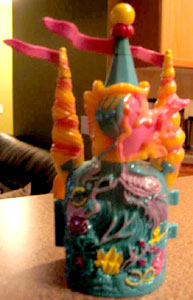 For Sale