Starcastle :: Teacup Collection
"Welcome to the Starcastle kingdom, where all your dreams come true! Unlock the magic and become the princess you always wanted to be!"
Starcastle was produced by Trendmasters from 1995 and were a series of plastic castles which opened up via a key to reveal the inner living and playing space, and came with many little accessories each.
In 2001 they introduced Starcastles with Stardancer Dolls, which were better known as Sky Dancers.
After Trendmasters ceased trading in 2002 (brought up by Jakks Pacific) at least three more castles were made for Disney using the old moulds with a fairytale princess theme. Just to make things even more confusing, Trendmasters produced several Starcastles in a variety of colours too!
Images on this page thanks to various eBay sellers!
Teacup Collection
There were three playsets in the Teacup Collection.
Berry Tea Castle
Jewelled Tea Party
Peppermint Tea Castle
Berry Tea Castle
"Join the princess for a very berry tea party when your starcastle becomes a real tea set!"
Jewelled Tea Party
"The fanciest tea part ever! A special pearlized and electroplated finish trimmed in gemstones and sashes makes this tea party twice as nice! The castle becomes a teapot that pours water and 4 towers that become teacups. Open the castle with a magic key to discover a playset inside featuring 2 princesses, a frog prince, squirrel, 3 fairies, removable tea table and 2 secret charms."
Peppermint Tea Castle
"Join the princess for a peppermint tea party!"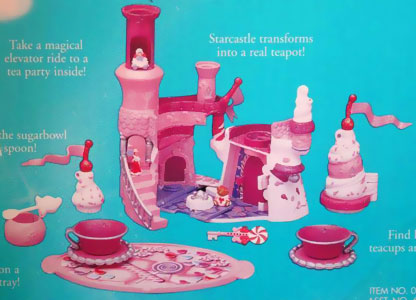 For Sale