Petite Ponies :: Sunsparkle Ponies
"They're keys that unlock a world of magic!"
Petite Ponies were produced by Hasbro in 1989-91. They were various sets of small 1" ponies with moulded and brushable hair, and had a horseshoe dent in their base. There were seven different sets plus eight playsets with a total of 78 ponies produced altogether. They had symbols on one side and only the ponies who came with the playsets were given names.
All images on this page thanks to Pablo!
Sunsparkle Ponies :: 1st Series
There were five Petite Sunsparkle Ponies produced. They had translucent bodies and there was one pegasi and four earth ponies. None had names.
Bunch of Balloons
Hot Air Balloon
Ice Cream Soda
Perfume Bottle
Ring
There was also a variation with eye paint.
The 1990 Hasbro catalogue image had all but one the same as the production line ponies (hot air balloon).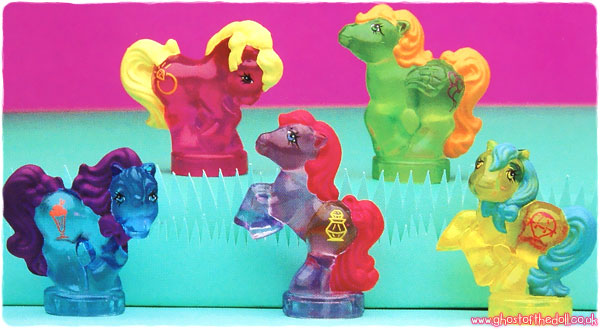 The packaging image used two differently coloured ponies from the production line ponies (hot air balloon and bunch of balloons), and the perfume symbol was quite different.
For Sale