Sweet Secrets :: Japanese Prototypes
"An adorable transformable world!"
Sweet Secrets were produced by Galoob from 1985 into the mid 1990's. Later on, a few of Galoob's dolls and playsets were released Blue Box. They started off as a series of lockets which transformed into dolls and animals, and as they grew in popularity Sweet Secrets became more diverse, even expanded into playsets.
They were sold in the US, UK and other parts of Europe, and I currently know of one name variation:
UK & US: Sweet Secret
Italy: Dolci Segreti
Images on this page thanks to Pablo!

Japanese Prototypes
A selection of the early charms and playsets were produced for the Japanese market by Toybox in 1985 (or at least were planned on being). The colours varied and the dolls/animals eyes were a little different.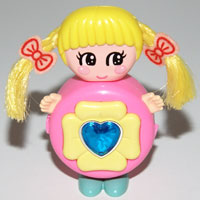 Leaflet
Brush-Car Set
Packaging front.
Packaging side.
Packaging back.
Close up of packaging side illustration.
Instrustions.
The actual playset!
The mould used was that by Galoob, and as such had their manufacturing marks on with a "Toybox" sticker added.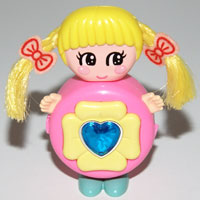 For Sale