Sweet Secrets :: Stationary
"An adorable transformable world!"
Sweet Secrets were produced by Galoob from 1985 into the mid 1990's. Later on, a few of Galoob's dolls and playsets were released Blue Box. They started off as a series of lockets which transformed into dolls and animals, and as they grew in popularity Sweet Secrets became more diverse, even expanded into playsets.
They were sold in the US, UK and other parts of Europe, and I currently know of one name variation:
UK & US: Sweet Secret
Italy: Dolci Segreti
[eBay links are sponsored]
Images on this page thanks to Pablo, Ad Collector, Rebecca Chulew and eBay sellers e-villian, and Dennis Collectibles Dolls And Toys!
Stationery
There were three different Stationery themed groups produced.
Pens 'n Friends
Stationery Charms
Stationery Activity Sets
Pens 'n Friends
"A real pen... becomes a play friend! A pretty notepad... becomes a play room!"
There were three Pens 'n Friends sets produced which consisted of a large plastic note book which opened up into a room. Attached to the side of the notebook was a large pen which when opened revealed an animal. This animal could be sat inside the pen cover it came out of which also changed shape.
This earlier publicity shot used prototype toys, which looked a little different from the production line.
Be Write Bear
The notepad turned into a living room/playroom, and came with:
Pole Lamp
Clock
TV
Sofa
Cabinet/Bookcase
Be Write Bear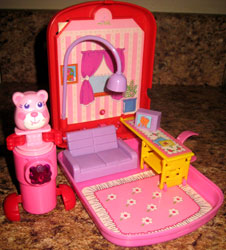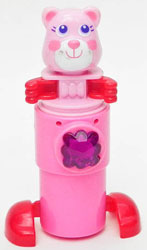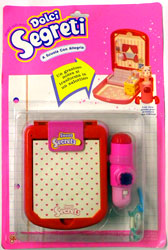 Do Write Dog
The notepad turned into a bedroom/playroom, and came with:
Lamp
Play Animals (bear & bunny)
Bed
Night Stand
Do Write Dog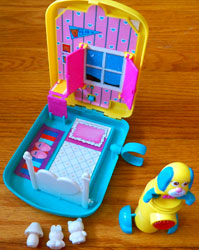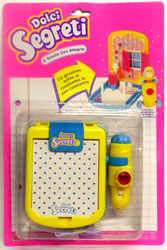 Let's Write Kitty
The notepad turned into a kitchen/playroom, and came with:
Drinking Cup
Dutch Oven
Tea Kettle
Table & Chair
Cupboard
Let's Write Kitty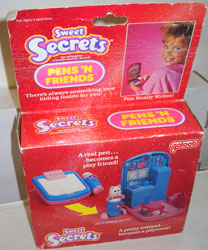 Stationery Charms
There were eight Stationery Charms produced, and included various types of stationery such as pens and scissors, which turned into dolls or animals.
| | |
| --- | --- |
| | |
| Tape Measure | Eraser |
Ink Stamps
Alligator Scissors
The US and Italian packaging differed only in the language.
Clown Pen
Girl Pen
Tape Measure
[no image]

Eraser
Tape Measure
Pony Ink Stamp
Pencil
Girl Ink Stamp
Alligator Scissors
Stationery Playsets
There were three stationary playsets produced with a design theme.
Design 'n Draw Art Studio
I've yet to find any images of the Art Studio beyond the publicity and back packaging images.
Boutique and Shoe Store
The Boutique and Shoe Store dolls had square-ish bodies with a necklace and belt on the front, rather than a gem.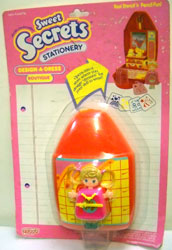 Designer Stamp Shoe Store
For Sale