Sweet Secrets :: Jewellery
"An adorable transformable world!"
Sweet Secrets were produced by Galoob from 1985 into the mid 1990's. Later on, a few of Galoob's dolls and playsets were released Blue Box. They started off as a series of lockets which transformed into dolls and animals, and as they grew in popularity Sweet Secrets became more diverse, even expanded into playsets.
They were sold in the US, UK and other parts of Europe, and I currently know of one name variation:
UK & US: Sweet Secret
Italy: Dolci Segreti
[eBay links are sponsored]
Images on this page thanks to RainMama, Ad Collector, Rebecca Chulew, Eileen, Pablo and eBay sellers Dennis Collectibles Dolls And Toys and jaimielynn79!
Jewellery
There were four jewellery sets produced.
Beauty Bows
Beauty Bracelets
Dangles
Switch Watches
Beauty Bows
Beauty Bows were produced in 1988 and consisted of eight large fabric hair bows with colour variation 1st series dolls or animals attached.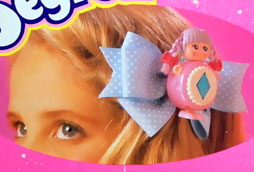 Back packaging and publicity images show eight different bow styles, although the ones I have found differ again. Some charms had shimmery bodies, and the dolls came with the usual variations of circle, diamond and heart shaped gems.
Flashee
I've found shimmery purple with blue gems only for Flashee.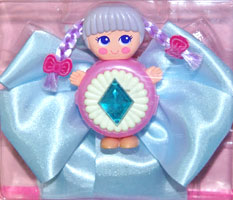 Gleamie
I've found red with blue gems, shimmery blue with blue gems, and shimmery blue with red gems for Gleamie. Plus three types of bows.
Shinie
I've found red with yellow gems only for Shinie.
Animals
Some, if not all af these, were sold without bows too.
| | | |
| --- | --- | --- |
| | | |
| Cat Trina | Pinkie Panda | Star Jumper |
Mac The Mouse
Kimmie Koala
Beauty Bracelets
There were three Beauty Bracelet sets produced, which consisted of a large gem which opened into a vanity unit topped with a heart shaped doll. The whole thing could be worn as a bracelet.
Blue Box also released these (just called Bracelets), with same changes to the dolls eyes as all other Blue Box releases, and also the stickers inside the cases were slightly different.
The heart shaped bodied were re-used for the third series of charm dolls too.
Dazzle Heart
This is the Blue Box version.
Glimmer
This is the Blue Box version.
Twinkle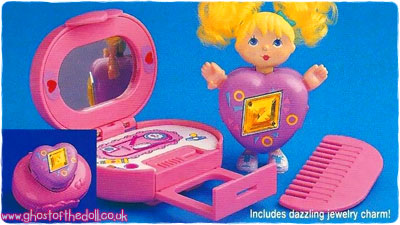 This is the Blue Box version.
Dangles
"Die-cast Dangles capture today's hot jewellery/charm theme with the extra sweet surprise of transformation. Each dangle transforms into a delightful, collectable mini-doll. Each doll comes with a bracelet chain which can be combined to form a charming Sweet Secrets necklace."
Dangles had keyring-like loops which could be hooked to the plastic chain included with them, forming a bracelet or necklace. They were firstly sold separately (in 1986) then included free with either a doll or animal charm on a blister pack.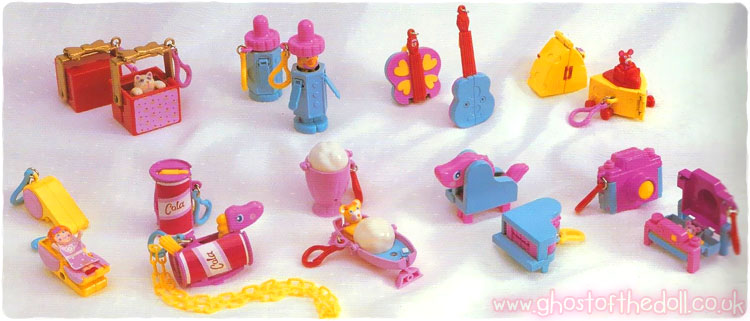 There were nine Dangles released.
| | | |
| --- | --- | --- |
| | | |
| Basket Cat | Bathtub Bear | Beddy-Bye Bear |
| | | |
| --- | --- | --- |
| | | |
| Flighty Butterfly | Flower Doll | Jolly Clown |
| | | |
| --- | --- | --- |
| | | |
| Mouse Mobile | Prancy Pony | Rockin' Horse |
Switch Watches
"These six unique Switch Watches sport innovative styling, bright colours, and clean graphic looks that click with today's young girl. Each is a highly accurate working digital watch and magically transforms into a cunning Sweet Secrets mini-figure. Each figure can be used with any of the Sweet Secrets playsets. All watches come with a brilliant coloured, adjustable wrist band."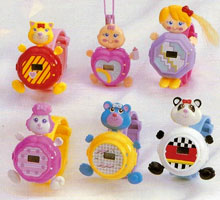 Produced in 1986, Switch Watches were real digital watches which transformed into different animals or dolls. There were six different characters.
Fun Time Panda
Happy Hours Bear
Late Date Doll
Silly Seconds Pup
Time Keeper Cat
Watch Me Baby
Packaging
For Sale