Pound Puppies :: Mattel
"Lovable puppies that need a home!"
Pound Puppies production was taken over by Mattel in 2004 for three years with seven different sets of plush puppies, three sets with interactive features.
[eBay links are sponsored]
Images on this page thanks to Mattel publicity!
Classics
"Classic lovable, huggable Pound Puppies are back! Soft and cuddly, these puppies are as adorable as ever. There are four adorable pups to choose from, each wearing its own collar with a tag for personalization. Each puppy comes packed in a reusable doghouse package and includes a playmat. You'll find true puppy love when you snuggle up with a Pound Puppies Classic! Comes with adoption certificate and collar tag ready for you to personalize."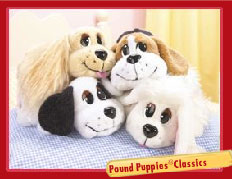 | | |
| --- | --- |
| | |
| Beige Cocker Spaniel | Dalmatian |
Mini Pound Puppies
"Lovable mini Pound Puppies are perfect for collecting! There are six different Pound Puppies, each small enough to hold in the palm of your hand, and big enough to warm your heart."
I've so far found a pug.
Puppy Dreams
"These lovable, huggable Pound Puppies have big dreams for their futures! The adorable beagle pup wants to go to school and little pug wants to be a prima ballerina! The lovable hound dog wants to retire to a tropical island and the cocker spaniel wants to be a beautiful bride someday. Each puppy comes with a collar and tag for personalization and their outfits are removable."
The group image above shows a puppy in a raincoat but isn't mentioned in the text above. Conversely, the hound in the Hawaiian shirt isn't pictured but is mentioned in the text!
| | |
| --- | --- |
| | |
| Pug | Cocker Spaniel |
| | |
| --- | --- |
| | |
| Hound | Dalmatian |
Holiday Mini
"Our holiday mini Pound Puppies are all dressed up and ready to play whenever you need winter cheer. They're so adorable, you'll want to collect them all!"
Pick-Me-Pups
"Soft and cuddly as ever, these adorable Pound Puppies have realistic sounds and movement that seem to make them come alive! Pet these pups and they raise and move their heads and whimper, yelp and bark to encourage you! These pups are packed out in a motion sensitive try-me mode, so when you approach them on shelf, they automatically start to bark and move their heads as if to say, "Pick Me"! You won't be able to resist taking one home! There are five different pups to choose from, each wearing its own collar with a tag for personalization. Each puppy comes packed in a reusable doghouse package."
| | | |
| --- | --- | --- |
| | | |
| Hound | Beagle | White Cocker Spaniel |
| | |
| --- | --- |
| | |
| Dalmatian in Packaging | Hound in Packaging |
Here Puppy, Puppy
"Call out for a Here Puppy, Puppy Pound Puppies pal and see who comes running! They love to go for walks and play ball, and can even find their way back to their doghouse!"
| | |
| --- | --- |
| | |
| White & Brown | White Poodle |
Go Puppy, Go
"You'll have hours of fun with the remote controlled Go Puppy Go! Pups. These are the feistiest, most energetic Pound Puppy pups yet! Using the adorable, paw shaped remote controller, you control this pup's movements as you walk him, race him or make him spin as if doing tricks! Grab a friend with another Go Puppy Go! pup in a different frequency and you and your friend can have hours of fun controlling these pups as they play together and romp around like all young puppies do! There are three puppies in the assortment, each one comes in a different colour variation. Every puppy comes in two frequencies so you can always play with a friend's pup who runs on a different frequency. All puppies come with a name tag and name collar and an Official Pound Puppies Adoption Certificate."
| | | |
| --- | --- | --- |
| | | |
| Beige and Brown Beagle | Beige Cocker Spaniel | Black & White Dalmatian |
| | |
| --- | --- |
| | |
| Gray and Brown Beagle | White Cocker Spaniel |
For Sale