Pound Puppies :: Other Countries
"Lovable, Huggable!"
Pound Puppies were designed by Mike Bowling in 1984 and have been in production ever since, changing hands many times (as you can see)! They started out life a series of soft puppies which were adopted when children bought them (just like Cabbage patch Kids). Pound Pur-r-ries were added to the line, and as they grew in popularity, more and more related merchandise was produced including books, animated videos, puzzles and games. Over the years they have been produced by Irwin, Hornby, Tonka, Galoob, Mary Meyer, Jakks Pacific, Mattel and Flair. Every company re-designed the puppies slightly and brought out different lines, Tonka and Galoob being the most prolific.
Just to make things even more confusing, Pound Puppies were also produced for different parts of Europe under various names and by various companies (which were all also differently designed).
UK & US: Pound Puppies
Canada: Piteux Pitous (as well as Pound Puppies)
Germany: Wauzi and Miauzi
France: Pitou
Brazil & Argentina: Snif Snif
Italy: Cercafamiglia
[eBay links are sponsored]
Images on this page thanks to various eBay and other sellers!
Pound Puppies in Other Countries
Pound Puppies were also produced for different parts of Europe and the world under various names and by various companies.
Germany :: Wauzi
Pound Puppies in Germany were called Wauzi and produced by Schildkröt. They also produced Pound Pur-r-ries, called Miauzi. They used the Tonka logo and seem to have had quite a large run too, including large puppies, newborn puppies and furry puppies and kittens! There was also fashion wear and other related merchandise produced.
Below are a selection of images of some of the puppies produced, there were a lot of variations and styles.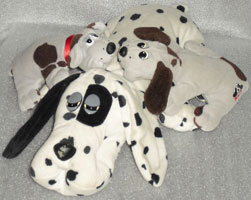 Fashion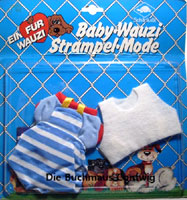 Other Items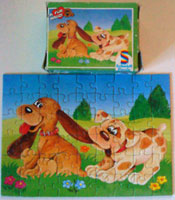 France :: Pitou
Pound Puppies in France were called Pitou and produced by Vulli in 1985. The logo is very similar to Irwin's line. The first puppies to be produced were made of polyester and had printed on eyes. The smaller puppies look like they were produced from a different material and also had plastic eyes. Each one came with a collar.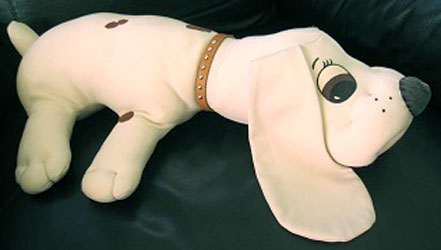 The adult puppy below looks more like the Tonka puppies, so probably a later run as the line grew to include the newborns.
I've also found two plastic figures (non poseable).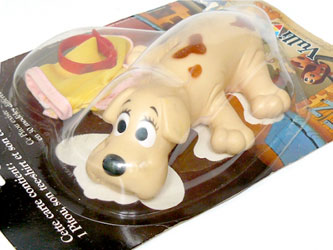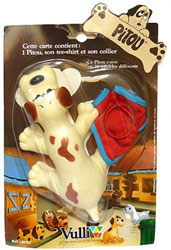 Brazil & Argentina :: Snif Snif
Pound Puppies in Brazil and Argentina were called Snif Snif and produced by Estrala in Brazil and Antex in Argentina.
The three puppies below have polyester bodies and printed on eyes.
The puppies below have plastic eyes.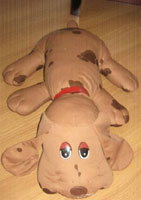 The puppies below have a different look again.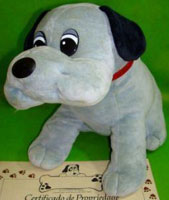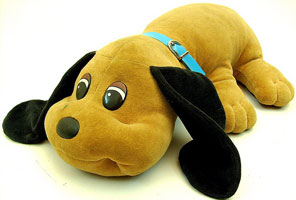 These two plastic figures have moving parts.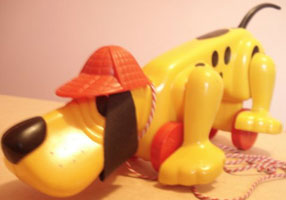 These two plastic figures are like French ones above.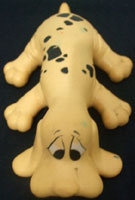 Italy :: cercafamiglia
In Italy, the line was called Cercafamiglia and produced by Harbert. Various sets were produced during the 1980's.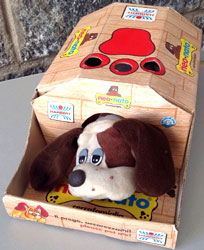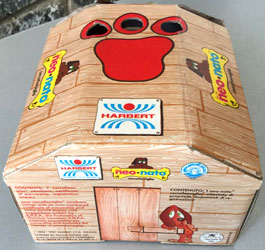 For Sale